Anyone else feel like this EVERY Monday morning?
A few things from over here:
The
Marvel's Agents of S.H.I.E.L.D.
season finale is tonight!
I am so stoked!
I haven't been this excited for television in a while, and
dang
I'm crazy excited.
I started watching the show because I felt obligated by my love for superheroes.
I was never a big Marvel fan, but
The Avengers
was funny, and so I decided to give
Agents of S.H.I.E.L.D
a shot.
Honestly, I disliked it at first.
I didn't care for most of the characters, but they've all gone through so much development, and now I'm completely invested and yelling at the television when things go awry.
(And holy cow, have things gone awry!)
I'm so psyched for the finale!!!
But I wish I didn't have to wait for the next season to get more SHIELD!
I've been feeling constricted by my jeans lately, and I now ardently want some comfortable, breezy linen pants. Or something like fisherman pants or even the patiala salwar Kareena Kapoor wore in
Jab We Met
(see below). Do you know of a good place to find these?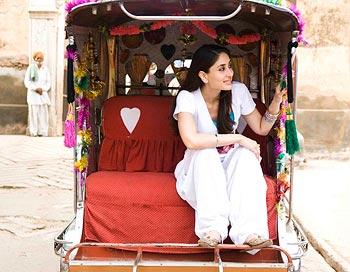 Speaking of, dear Caleb has suffered through 2 Bollywood films in less than a week! We finished up Jab We Met last Friday, and last night I started Fashion, which I would describe as a train wreck of a story. You just can't look away. We couldn't finish the 2:45 movie in one evening, but when had to pause it, we were at a very depressing part of the movie. I needed some serious cuddles before bed.
Caleb and I have been making a lot of new-to-us recipes this month, and as Caleb pointed out, I always choose to do them when it matters. Japanese dinner party? Mother's Day dinner? New recipe! Not the wisest approach, but it has been adventurous, and so far, nothing's tasted bad!
Some sad things have been happening at my Alma Mater this semester, by the way. I graduated in 2010 and I still think of Bryan College very fondly. This unfolding situation has been breaking my heart, and I want to mention it, but without going into to much detail. So many people have written so many things about the situation already, and this article sums it all up pretty well.
I saw this video and had to share. Let's make humanity a good place.
If I could ask every reader a few questions, they would be...
What things do you care about?

Causes, people, passions?


What things bring you comfort?

Foods, places, songs?


What is something you wish you were good at?

Character traits, personality traits, talents?
(And do you know where I can get some linen pants?)