This recipe from My Adventures in the Country. You need

to try it.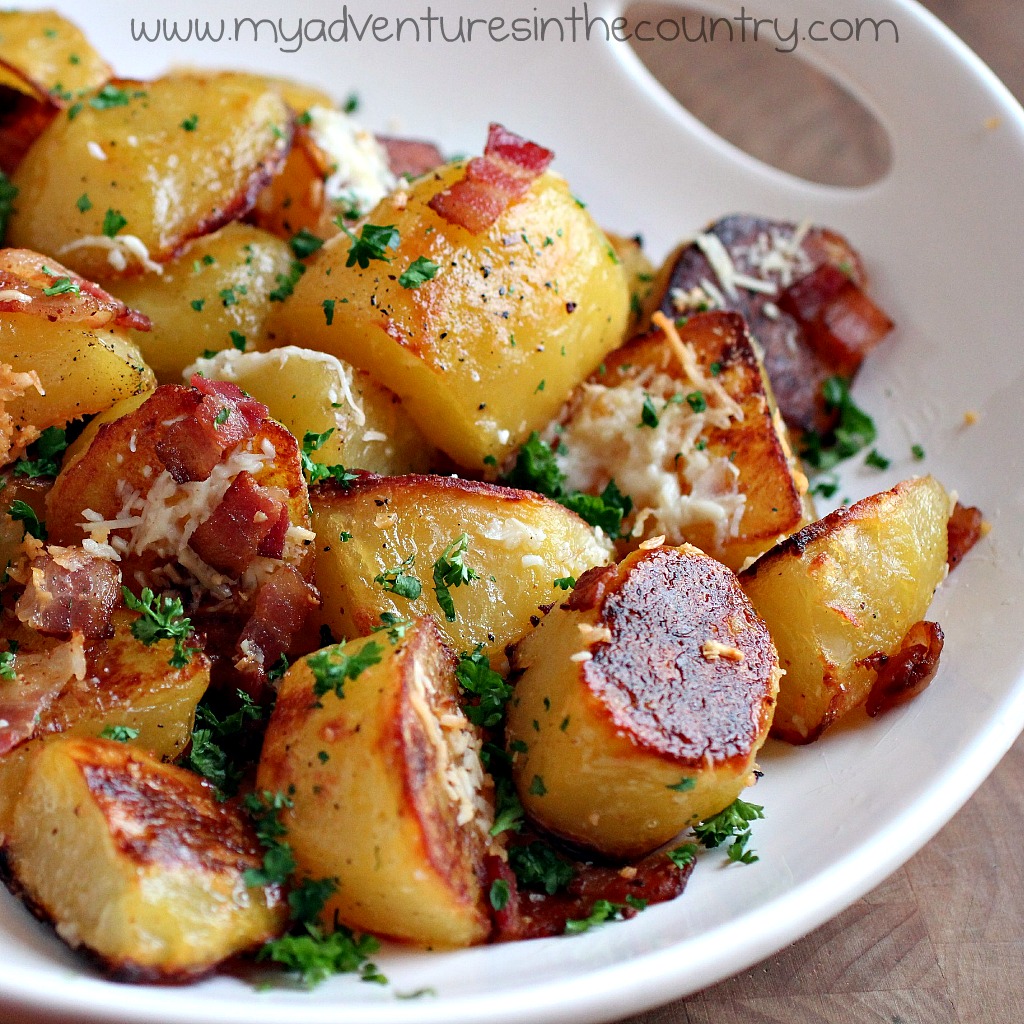 I love potatoes. I love-love-love them. Homemade chips, baked potatoes, Five Guys fried, mashed potatoes, it's all good. I'll tell you, though, Caleb and I have had a heck of a hard time preparing

oven roasted potato

sides that

don

't turn out burnt or flappy. (I seriously don't get it. We even recently bought a mandolin so we could be sure to have evenly cut potato

es, but even that hasn't really helped yet.)
Coming t

o the rescue, we have these cheesy bacon roasted potatoes! Crispy on the outside, soft on the inside, and large enough that they don't burn like our failed attempts! These things are so very tasty, and definitely work

a recommendation. Let me know if you try them!
Recommended with these delicious potatoes...
It's a few weeks old, but if you haven't see John Oliver's dissection of the Miss America Pageant, you need to see it. Hilarious and informative.
I've never been to NYC, and when I go, Odd Fellows ice cream shop will be on my list of things to do. Just look at those amazing flavors! I'd like to try the Brown Butter, Cornbread, or Pretzel first. (I've been wanting to try savory/salty ice creams this past week. I actually thought about a chicken flavored ice cream. Too w

eird?

)
This connection made me laugh sadly.
A little extra insight into the intelligence of elephants.
This week I learned that if you pair dairy with blueberries, you don't get the full benefit of the antioxidants. And if you want to get the antioxidant benefit of turmeric, add pepper to activate the curcumin. This stuff is super interesting and helpful, and you can learn a few more tricks here at Darling Mag.
"Where in Scripture does it ever show Jesus saying, 'Oh, I'll just go wherever you're headed?' Never." A friend of mine shared excellent and powerful writing on His plans vs. our plans. Wo

rth a read.
How to Wear What You Want
. In college, we would tell each other, "You can wear whatever you want, especially if you wear it with confidence." This fun article goes even deeper into kno

cking down the barriers between you and your dream style.